Historic sites to celebrate the holidays in style
It's the perfect way to support our nation's historic sites and institutions and to make the holidays special.
This list showcases 20 great historic sites and events where you can make this holiday historic. If you know of a historic event that belongs on this list, please post a comment below.
Christmas at Biltmore Daytime Celebration in Asheville, North Carolina
November 5, 2021 - January 9, 2022
Wrap yourself in the fragrant smell of fresh evergreens while admiring holiday décor featuring wreaths, garlands, and the sparkle of thousands of ornaments on more than 55 magnificent Christmas trees. The celebration continues across the estate, including colorful holiday blooms in the Conservatory, commemorative Christmas wine at the Winery, special menus in estate restaurants, and a must-see evening illumination display throughout Antler Hill Village.
Recommended by Robert Mastriani
---
Experience Christmas in Historic Bethlehem, Pennsylvania
November 19, 2021 - January 9, 2022
Tour Bethlehem at its brightest - take a walking tour of one of America's National Historic Landmark Districts with certified guides in period dress leading you through centuries of Bethlehem's rich history. View the gilded Christmas trees on display across six historic sites. See the Holiday Putz Trail; a Putz is a traditional Moravian decoration that features ornate figurines, animals, and building scenes to tell the Nativity Story and many more.
---
36th Annual Gingerbread Gallery in Syracuse, New York
November 19, 2021 – January 9, 2022
The Erie Canal Museum's annual Gingerbread Gallery started in 1986 as a one-day gingerbread auction. Its popularity has increased over the years, and it is now a six-week long event featuring over 30 gingerbread creations made by local bakers of all ages. They also offer children's gingerbread house workshops and a build & sip for grown-ups!
Recommended by Susan Hughes
---
Meadow Brook's Annual Holiday Walk in Rochester, Michigan
November 26 - December 23, 2021
This holiday season, stroll through the elegant decor and sparkling lights of the Great Estate and experience the holiday magic of Meadow Brook, a national historic landmark constructed in the 1920's featuring a Tudor-Revival architecture. Afterwards, walk down the lit path to the Land of Santa and Sweets to warm up by the fire with a cup of hot cocoa.
Recommended by History Reporter
---
Holiday Nights in Greenfield Village at Dearborn, Michigan
December 3-28, 2021
Surround yourself with true holiday spirit in what Reader's Digest and USA Today call "one of the Top 10 Christmas experiences" in the country. Main Street brims with holiday goods, food and warm beverages. Historical home tours open the doors to centuries of favorite family holiday traditions. From the finest tinseled detail to the fireworks-filled sky that marks each evening's finale.
---
A Spirited Holiday Past in Historic St. Louis, Missouri
December 4, 2021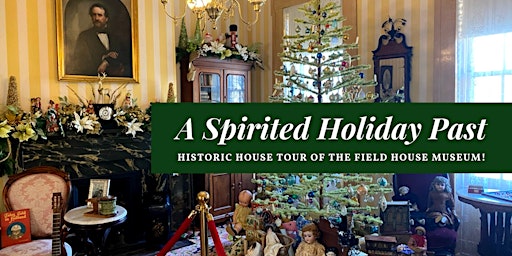 Twenty-six historic houses, museums, and privately-owned homes are joining together to present a splendid grand tour. For this one-day event, each venue will be decorated with a festive flair and may offer costumed skits, music, other seasonal activities, and refreshments. Choose a themed tour or customize your own.
---

48th Annual Christmas Candlelight House Tours in Cape May, New Jersey
December 4, 11 and 18, 2021
Walk along the gas-lit streets and experience the high point of Cape May's holiday season during these self-guided walking tours. Activities include walking through decorated homes, inns, hotels & churches, Christmas caroling and strolling musicians, trees and garland and good old-fashioned cheer, admission to the Emlen Physick Estate, Cape May's only Victorian House Museum decorated for Christmas, and to "An Old-fashioned Christmas" exhibit in the Carroll Gallery.
---

St. Augustine Night of Lights Holiday Display, Florida
December 1, 4, 11, 18-19, 2021
Witness the mesmerizing display of Christmas lights to celebrate this yuletide season around St. Augustine's Historic District. An unforgettable experience to behold the glow of more than 3 million white lights. The Luminary Night takes place on December 1 at the St. Augustine Lighthouse & Maritime Museum. This year's Christmas Parade will be on December 4. The Holiday Regatta of Lights will happen on December 11. And the Noche de Navidad and Las Posadas will take place on December 18 and 19.
---
51st Annual Harpers Ferry Olde Tyme Christmas in Harpers Ferry, West Virginia
December 4-5, 11-12, 2021
Experience a traditional "Christmas past" celebration, as quaintly decorated streets come alive for the holiday season in this 1860 living history village. Featuring live entertainment, plenty of children's activities, breakfast with Santa Claus, a living nativity, living history events and extended shopping hours.
Recommended by Larisa Moran Chancellor
---
Yuletide in the Country Tours in Mumford, New York
December 3 - 19, 2021
Travel back in time to 1849 for a festive yuletide event. Journey through the snowy Historic Village with a costumed tour guide as you visit the homes and businesses of the villagers – they are celebrating the news that Christmas has been declared an official holiday in New York! Singing, dancing, music, and other festivities will surround you during these enchanting Christmas tours.
---
The Memorial Illumination in Sharpsburg, Maryland
December 4, 2021
23,000 Candles will be lit in honor of each soldier who was killed, wounded or missing at the Battle of Antietam, the bloodiest day of the American Civil War. This is a free 5-mile driving tour and the largest memorial illumination in North America.
---
Christmas in Zoar in Historic Zoar, Ohio
December 4 - 5, 2021
Experience all the joy and cheer of the season during Christmas in Zoar. Enjoy musical entertainment, a juried craft show, tour the village, and more. While in Zoar, makes sure to visit Belsnickle and Kristkind, and take a horse-drawn wagon ride around the village. Attend a candlelight church service at the Historic Zoar Meeting House (Zoar United Church of Christ), followed by a tree lighting ceremony in the Historic Zoar Garden.
---
Grand Illumination in Colonial Williamsburg, Virginia
December 3 - 19, 2021
Join Colonial Williamsburg for this special day by strolling the Historic Area and viewing all the unique decorations. Enjoy musical performances on multiple stages throughout the Historic Area and fireworks displays from the Capitol, the Magazine, and the Palace.
Recommended by Mark Genarelli, David Kellberg, Cynthia Skidmore and Roberta McKay
---
Nevada City Victorian Christmas 2021 in Nevada City, California
December 5, 8, 12, 15 and 19, 2021
Enjoy an old-fashioned holiday at Nevada City. At locations throughout downtown, Victorian singers, bagpipers, brass bands and strolling minstrels provide warm Christmas music. Nevada City's famous Walking Christmas Tree and a living nativity scene can be found, along with hot roasted chestnuts and horse drawn carriage rides.
---
Evening of Lights in Aztec, New Mexico
December 10, 2021
Witness the Aztec Ruins glows at the annual Evening of Lights. Enjoy the lantern display in the Aztec West Great House and cultural demonstrators inside the Visitor Center. Free cookies and hot cocoa will be provided by the Friends of Aztec Ruins.
---
First Crossing Reenactment in Washington Crossing, Pennsylvania
December 12, 2021
A Bucks County tradition featuring several hundred reenactors clad in Continental military dress and George Washington himself on their daring 1776 Christmas Day crossing of the Delaware River in replica Durham boats. In addition to the crossing reenactment, special colonial-era activities and demonstrations throughout the historic village provide your family with a full day of fun and learning.
We also have the perfect shirt to go with this event: Our original design for hard core history lovers, in long-sleeved and short-sleeved styles.
Recommended by Dominic Bucci
---

Christmas Illuminations in Mount Vernon, Virginia
December 17 - 18, 2021
Kick off your holiday season with sparkling fireworks overlooking the Potomac River! Join Mount Vernon for an evening of family-friendly fun and fireworks choreographed to holiday music. Take a stroll through the estate while being serenaded by local choirs, visit with re-enactors from the First Virginia Regiment, and learn 18th-century dance moves from costumed guides in the Greenhouse. George and Martha Washington will also be on site to greet Mount Vernon's holiday guests.
Recommended by Larisa Moran Chancellor
---
"At Christmas be Mery": A Special Evening at Historic Jamestowne in Virginia
December 10, 2021
Sir George Yeardley, Virginia's Governor in 1620, invites you to an early-Virginia Christmas celebration complete with a seasonal bonfire with remembrances of "Yule times" past, strolling along a cressit-lit path to the 1608 church, carolling and firing of the Christmas guns!
---
Christmas Day Crossing Reenactment
December 25, 2021
Watch the 66th annual reenactment of George Washington's daring 1776 Christmas night river crossing. During the event, several hundred reenactors in Continental military dress listen to an inspiring speech by General Washington and then row across the river in replica Durham boats.
We also have the perfect shirt to go with this event: Our original design for hard core history lovers, in long-sleeved and short-sleeved styles.
---

Patriots Week in Trenton, New Jersey
December 26 - 31, 2021
Patriots Week is a celebration of Trenton's revolutionary role in America's history. The week-long festivity is a comprehensive celebration of the life and times of Revolutionary War-era Trenton. Patriots Week attracts thousands of visitors to the city to enjoy art, music, literature, battlefield re-enactments, and living history events.
Recommended by Caron Chapman-Case
---
Do you have ones we should add? If so, please post a comment below. And if you're looking for a special gift for a history lover on your list, check out our Gift list for history lovers. You'll find shirts and stickers with our original design, special commemorative shirts, and signed books by noted historians. Your purchase is what funds the operation and expansion of The History List.
Posted By
Danella Le Roy
on
November 23, 2017