Hat Decorating Workshop
Improve listing Presented by Pottsgrove Manor

Create a new fashionable star of your period wardrobe with a covered hat at Pottsgrove Manor's Women's Hat Decorating Workshop.
Straw hats were often covered with silk and then stylishly trimmed with ribbons in the 18th century. Lynnette Miller, owner of Miller's Millinery, will provide hats and materials and teach all the needed skills to decorate and style a woman's hat. With pieces of silk, cotton, ribbons, and bows, a plain straw hat will be transformed into a luxurious accessory. Participants will leave the workshop with new skills and a fashionable hat to top off their wardrobe.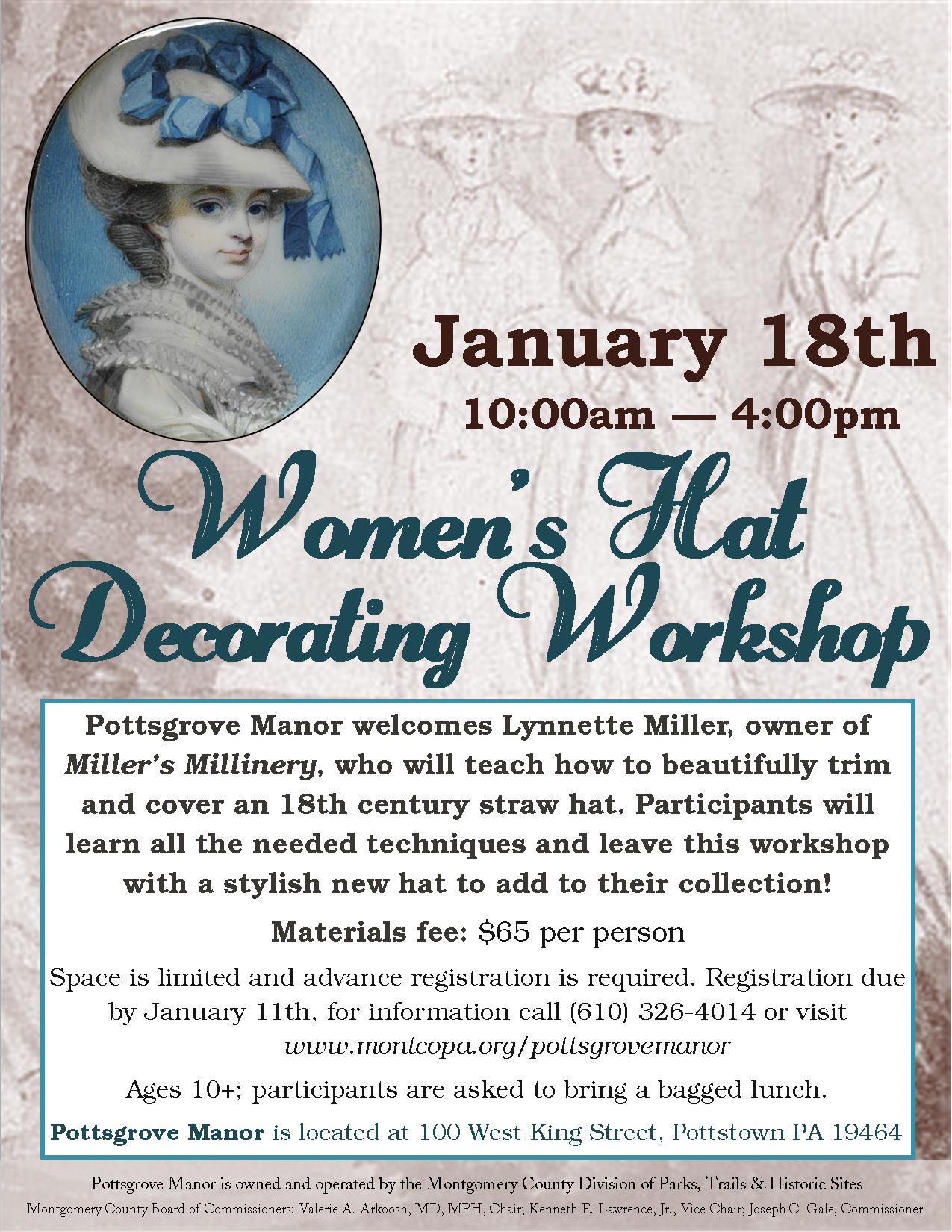 Space is limited. The materials fee is $65 per person. Ages 10 and older and all sewing levels are welcome to register for this workshop. Registration information can be found on Pottsgrove Manor's website, www.montcopa.org/pottsgrovemanor. Completed registration forms with a payment by check or money order must be received by January 11. If paying by cash, stop into Pottsgrove Manor on weekdays from 10 a.m. to 4 p.m. Please bring a bagged lunch to the event.
Pottsgrove Manor is located at 100 West King Street near the intersection of King Street and Route 100, just off Route 422 near the Carousel at Pottsgrove and Manatawny Green Miniature Golf Course, in Pottstown, Pennsylvania. Pottsgrove Manor is operated by the Montgomery County Division of Parks, Trails, and Historic Sites.
For more information, please call 610-326-4014, or visit www.montcopa.org/pottsgrovemanor. Like Pottsgrove Manor on Facebook at http://www.facebook.com/pottsgrovemanor.