Smith's Castle at Cocumscussoc
Smith's Castle at Cocumscussoc is located on scenic Mill Cove in Wickford (North Kingstown), Rhode Island, The site is a National Historic Landmark Archaeological Site and the manor house is individually listed on the National Register of Historic Buildings.
A group of concerned citizens formed the Cocumscussoc Association in 1949 to save Smith's Castle from a developer's wrecking ball. The Association's mission is to preserve the 22-acre site's archaeology and architecture, including the c1678 house and a c1900 house. The Association educates the public about the history of the site and its inhabitants through docent-led public tours, school programs, bus tours and adult-education seminars. The Cocumscussoc Association is a private, non-profit, tax-exempt IRS 501(c)(3) organization.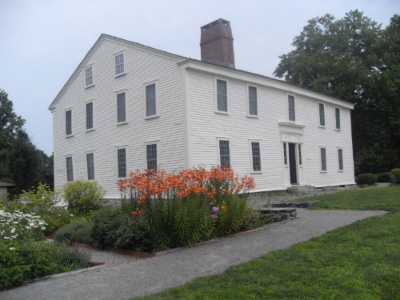 Docents in period clothing provide interpretive tours of the house at noon, 1:00, 2:00, and 3:00 p.m. on Thursdays through Sundays in June, July, and August; and on Fridays through Sundays in May, September, and October. From mid October through April the Castle is closed for tours. Open for special events throughout the year. The grounds and multiple walking trails are open to the public year round. The office is also open year round , please call for hours.
In the 18th century, Smith's Castle was one of the largest slave-holding farms in South County, spanning thousands of acres.
About 1738, Rhode Island Attorney General Daniel Updike renovated Smith's Castle into its current form.
About 1678, Richard Smith Jr. built the current house, then one of the largest homes in Rhode Island.
In 1675, it was a garrison for the Great Swamp attack and contains the grave of 40 slain soldiers.
By 1639, it was the location of trading houses operated by Richard Smith and Roger Williams—the first English settlement in South County.
Before the arrival of Europeans, it was a summer gathering place for the Narragansett.