Workshop: Focusing on Visitors
Improve listing Presented by American Association for State and Local History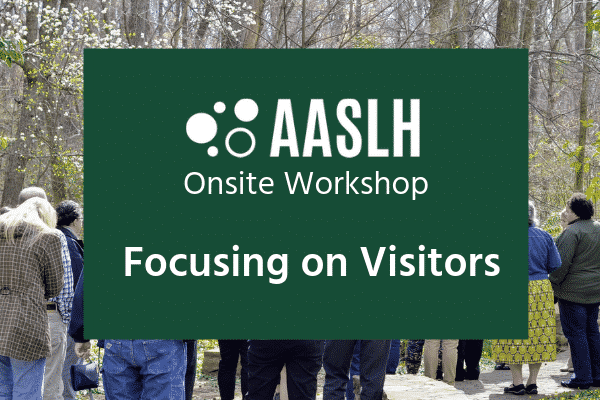 Workshop Description
This workshop provides a broad overview of public programming and exhibits with a focus on active learning. Themes are based on The Museum Educator's Manual: Educators Share Successful Techniques, coauthored by one of the workshop instructors, a copy of which is provided to each participant.
Keeping visitors at the forefront of our thinking, participants will explore a wide range of topics including audience types, volunteer management and training, tour techniques, active learning with people of all ages, developing/updating exhibits, demonstrating relevance, marketing, evaluation, planning, and collaboration. Case studies and interactive activities provide excellent opportunities to engage with fellow participants and our host site. Attendees will leave the workshop with information, ideas, and materials they can take back to their organizations to adapt and apply.
Details
FORMAT: On-site group workshop
LENGTH: Two days
DATE: June 17-18, 2019
LOCATION: Minnesota Historical Society, St. Paul, MN
MATERIALS: Workshop materials will be provided upon registration and in-person at the event.
COST: $230 AASLH Members/$345 Nonmembers
** Save $40 when you register by May 17, 2019 and use promo code EARLYBIRD19 at checkout! **
Who Should Attend This Workshop
This workshop is ideally suited for early-career museum educators, curators, volunteer managers, museum studies students, or dedicated volunteers who play a role in education, interpretation, exhibition planning, and/or public programming. Mid-career professionals can also benefit from revisiting the content covered in this workshop to help update and rethink programs and exhibits and gain insights on how to train and support newer staff.
Instructors
Tim Grove recently started a new consulting business after twenty years at the Smithsonian. He focuses on education strategy, exhibition development, and increasing relevance. He is author of 4 books including The Museum Educator's Manual: Educators Share Successful Techniques. The 2nd edition of the book was recently published.
Alexandra Rasic is the Director of Public Programs at the Homestead Museum in City of Industry, CA, and a member of AASLH's Council. In addition to working with the public in a variety of history organizations as a volunteer, she worked as a freelance corporate archivist for over a decade in Los Angeles.