Wool Days
Improve listing Presented by Old Sturbridge Village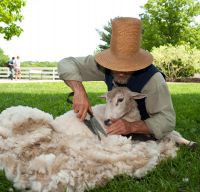 May 25-27, Memorial Day Weekend
The sheep get their yearly "haircuts" this weekend. Farmers shear the sheep, and costumed history interpreters demonstrate the entire wool textile process, from scouring and carding the wool to spinning, knitting the handspun wool yarn.
Try your hand at carding the wool, and then see how the Village's 19th-century water-powered carding mill can do the same job much faster.
See sheep herding demonstrations. David Kennard of Wellscroft Farm in New Hampshire will be demonstrating how his border collies can herd, sheep, ducks, and goats. Demonstrations will be scheduled throughout the day.
Sheep
Join us in knitting (or crocheting) scarves for deployed soldiers, in partnership with the Scarves for Afghanistan Project. We will provide the yarn, pattern, knitting needles and crochet hooks.
Learn about the natural dyes used to produce brilliant colors in the 19th century. Use modern dyeing techniques to dye your own skein of OSV yarn at the Craft Center(fee applies.)
Different Wools - Meet an Angora rabbit, alpaca, and llama to learn about wool from different animals. See how their wool is spun into yarn on a 19th-century spinning wheel.
Meet the animals - lambs, chickens, cows and oxen, and watch a host of daily demonstrations, including musket firing, hearth cooking, printing, coopering, blacksmithing, shoe-making and launching toy hot air balloons.