Twelfth Night Tours at Pottsgrove Manor
Improve listing Presented by Pottsgrove Manor

Include Pottsgrove Manor's Twelfth Night Tours in your yuletide season to unwrap the history behind many holiday festivities.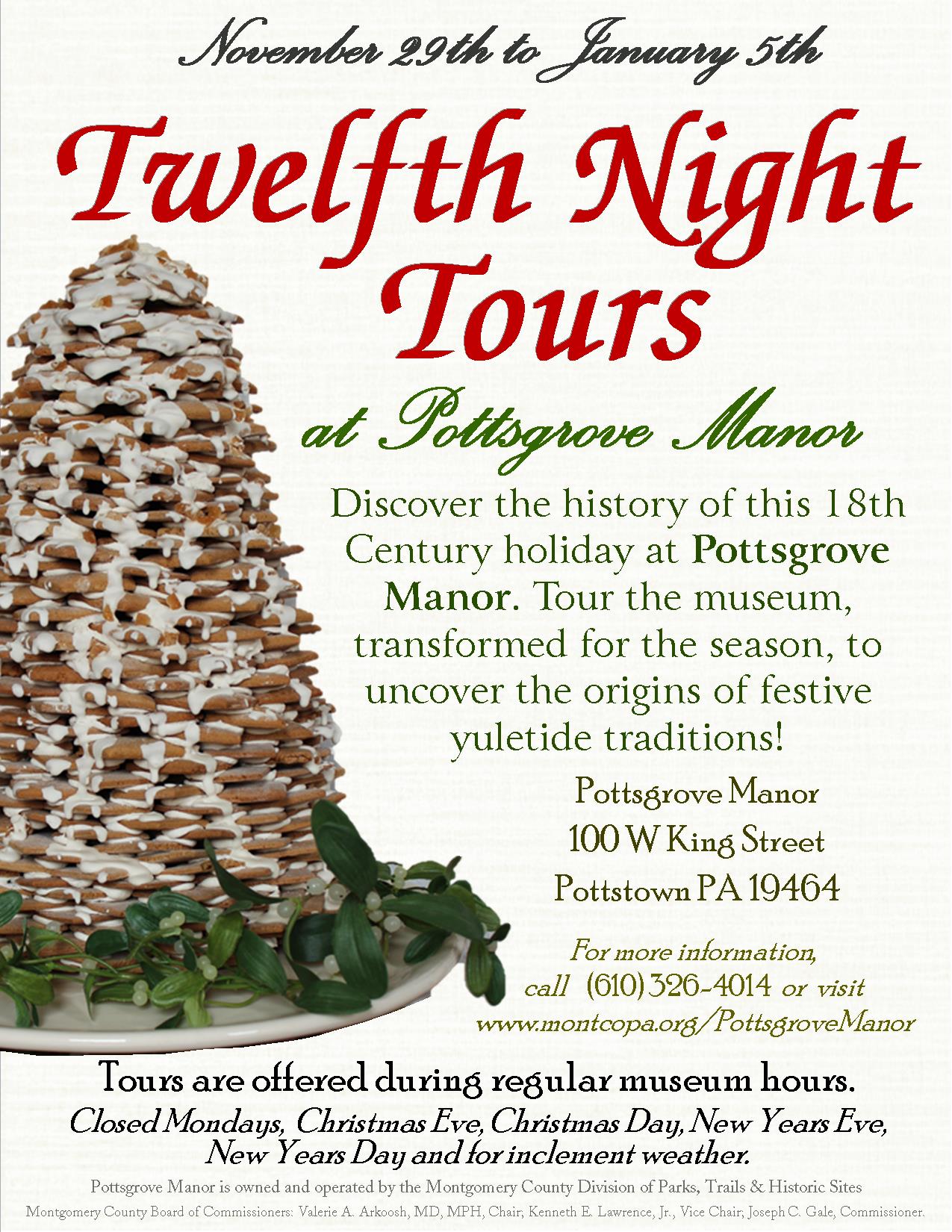 Discover the hectic holiday preparations of the 18th century on guided tours of Pottsgrove Manor. The museum is transformed for the season to highlight the festive traditions of Twelfth Night. The merriment of this historic holiday is largely forgotten, but the entire family can learn about the revelry the Potts and their guests would have enjoyed. Marvel at the elaborate desserts and special dishes created for the holiday and find the household staff furiously preparing the greenery decorations for the manor. Hum and dance along to favorite holiday songs with the Potts, but don't be surprised if the melody isn't what you think. Join in the spirit of Boxing Day with the servants to find out if you received a special holiday bonus. Uncover the extensive styling done to get ready for an upper-class party and if any of your beauty products are similar to colonial ones. Learn how the Potts children would have a different experience of the holiday season compared to the festivities enjoyed by adults in the house. Find out more about the history of some of your favorite holiday traditions and see how they have changed over time by visiting Pottsgrove Manor's Twelfth Night Tours.
Twelfth Night Tours are given during normal museum hours, Tuesday to Saturday from 10 a.m. to 4 p.m. and Sunday from 1 p.m. to 4 p.m. Pottsgrove Manor is closed on December 24, 25, 31, January 1st, and for inclement weather. Tours are usually 45 minutes to 1 hour; the last full tour of each day begins at 3 p.m. Additionally, the Museum Shop is also open and full of unique gifts, 18th-century replicas, books, and more! Find the perfect holiday gift for everyone on your list. These tours welcome all age,s and there is a suggested $2 donation per person.
Pottsgrove Manor is located at 100 West King Street near the intersection of King Street and Route 100, just off Route 422 near the Carousel at Pottsgrove and Manatawny Green Miniature Golf Course, in Pottstown, Pennsylvania. Pottsgrove Manor is operated by the Montgomery County Division of Parks, Trails, and Historic Sites.
For more information, please call 610-326-4014, or visit the website at www.montcopa.org/pottsgrovemanor. Like Pottsgrove Manor on Facebook at http://www.facebook.com/pottsgrovemanor.