Tracing Lafayette's Trail
Improve listing Presented by New England Historic Genealogical Society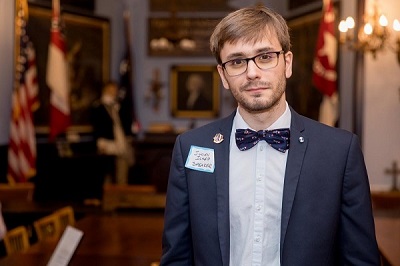 In partnership with the Hannah Winthrop Chapter, DAR
Wednesday, May 22, 6:00-7:30 PM
Presented by Julien Icher, Founder of the Layfayette Trail Project
NEHGS, 99-101 Newbury Street, Boston, MA
Cost: FREE
Julien Icher is a 25-year-old French entrepreneur, web developer, geographer, and historian enamored with the United States. He is the Founder and Executive Director of The Lafayette Trail, a Franco-American effort to document, map, and mark the footsteps of General Lafayette across the United States during his 1824-1825 Farewell Tour (www.thelafayettetrail.com).
Julien manages The Lafayette Trail Project for the Consulate General of France in Boston. As the Co vice-chairman of the committee in charge of promoting the 2024-2025 Bicentennial of the Triumphal Tour for the American Friends of Lafayette, he is deeply committed to the success of the missions bestowed upon him by the Consul General of France in Boston.
This presentation will highlight Julien's efforts in New England with the Massachusetts and New Hampshire state legislatures while discussing his experience traveling more than 22,000 miles across the United States almost 200 years after Lafayette's fourth and last visit to his adopted land.
Diaries and correspondence from NEHGS special collections documenting portions of Lafayette's farewell tour will be on display.