Thanksgiving Weekend
Improve listing Presented by Old Sturbridge Village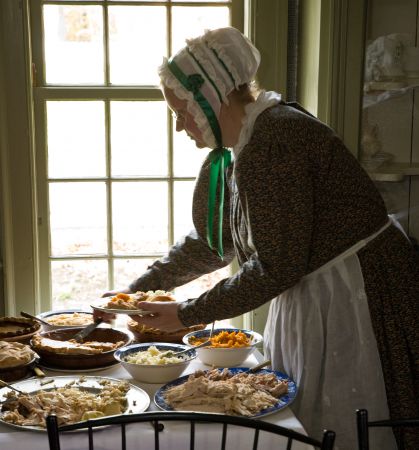 Thursday, November 28 through Sunday, December 1, 2013
Join us in our historic village and experience the traditions of an early 19th century New England Thanksgiving.
Visit village households to smell the aroma of Thanksgiving feasts in preparation, from the iconic turkey roasting before the fire to a myriad of pies warming on the hearth.
Discover Native American foodways and their own unique Thanksgiving connections. Visit with the Indian Doctress as she shares Native Traditions of giving thanks.
For the true 19th-century Thanksgiving experience join the minister in the Meetinghouse and listen as he explains the real meaning of Thanksgiving.
Cheer on farmers as they compete in a shooting match before they return home for their Thanksgiving meal.
OTHER THANKSGIVING WEEKEND ACTIVITES
Friday Nov. 29
19th-century Shooting Match
History of Thanksgiving
Saturday, Nov. 30
A re-created early New England Wedding
Musket-firing demonstrations
History of Thanksgiving presentation
Watch a slide show of past Thanksgivings in the Village.