Redcoats & Rebels
Improve listing Presented by Old Sturbridge Village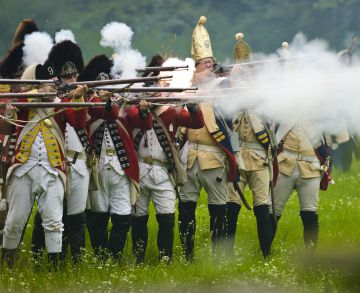 See the largest military re-enactment in New England with soldiers portraying British, Irish, Welsh, German, Scottish, French and Colonial troops. The Village is transformed into a military camp from the time of the War for Independence, as it was known in early New England. Come see what it was really like for those who fought to win America's freedoms.
Daytime events include a mock battle each afternoon, cannon-firing demonstrations, fife and drum music, and marching and drilling demonstrations. See how laundry was done, and meet the surgeons who tended to the wounded and administered smallpox inoculations.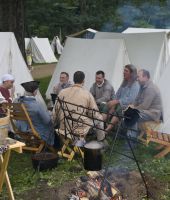 On Saturday, stay for special extended hours. The Village will be open until 8:00 p.m. for a special evening program, "Twilight Encampment," when visitors can mingle with troops in their camps from 5:00 p.m. - 8:00 p.m. There is no additional charge for the evening program. (The Village will close at its normal time, 5:00 p.m. on Sunday.)
The video below shows some of the excitement on this special weekend, which has been named a "Best of New England" event by Yankee Magazine.
Daytime events on both days include activities such as:
Mock battles and skirmishes
Tours of the British and American camps
"School of the Soldier" training demonstrations
18th-century Fashions in the Press featuring military and civilian clothing
Cannon demonstrations
Musket drilling with kids
Martial music
Help with camp laundry
Learn scouting techniques during "Reconnoiter with a Ranger"
Drilling and inspection of the troops
Visit the battlefield hospital - see small pox innoculations and treatment of the wounded after the battles
See the daily life of a Revolutionary War soldier - including delivery of uniforms, pay calls, and prisoner exchanges
Play 18th-century baseball
Attend a "Service for the Troops"
Learn 18th-century dances
Explore interactive miniature war gaming
Twilight Encampment
Food and beverages will be available for sale in the Village Cafe, Bullard Tavern Cafe. Grilled items and ice cream, as well as wine and beer will also be sold in the Village. Visitors may bring in their own food, but no outside alcohol is allowed.