Physician, Patriot, Potts: An Exhibit on Dr. Jonathan Potts
Improve listing Presented by Pottsgrove Manor

Expand your knowledge of 18th century medicine with Pottsgrove Manor's exhibit "Physician, Patriot, Potts: An Exhibit on Dr. Jonathan Potts," which opens on Saturday, April 4, 2020, at 11 a.m. and runs through Sunday, September 27, 2020.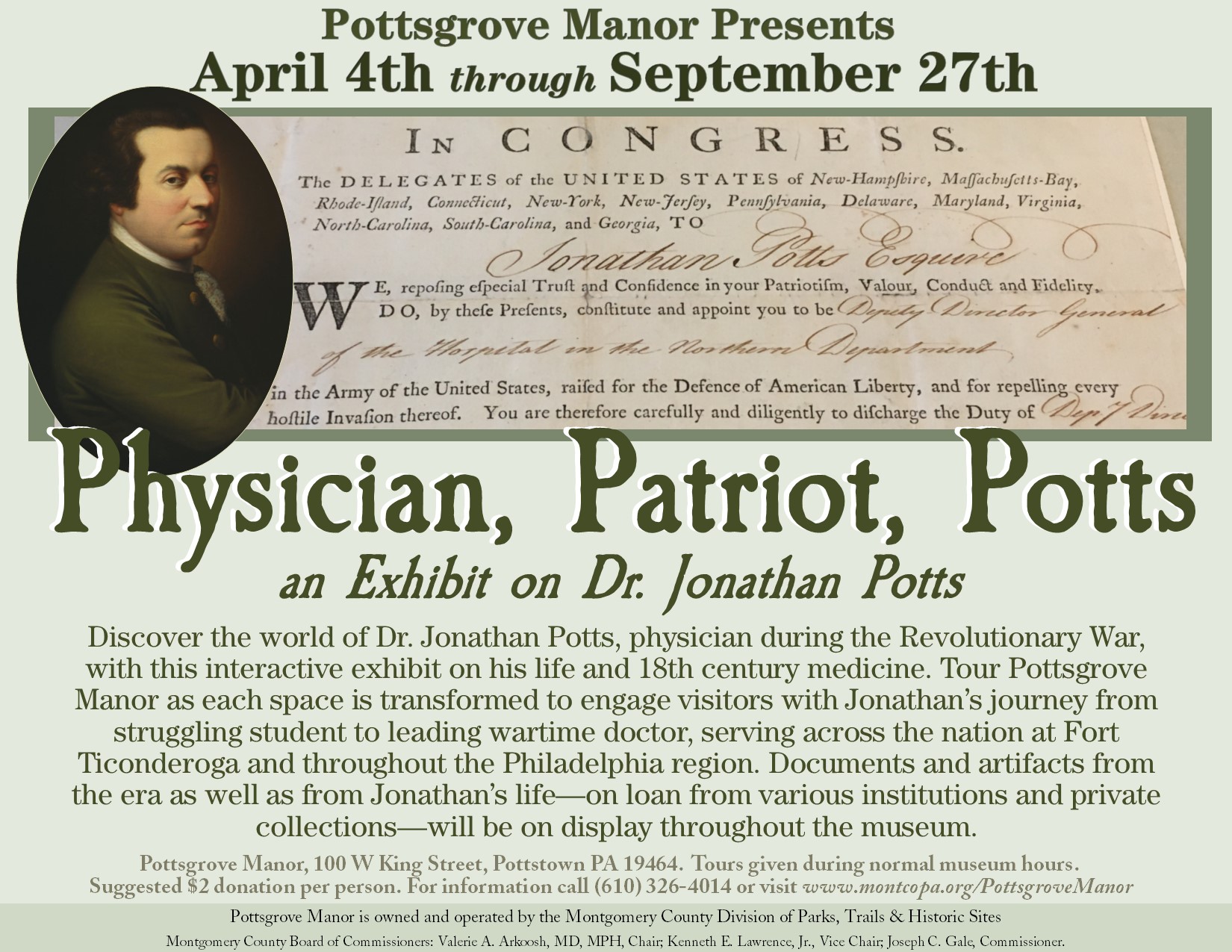 Pottsgrove Manor has been transformed to tell the life story of Jonathan Potts, born in 1745 to John and Ruth Potts, who dedicated his career to the study and practice of medicine. Educated at some of the top medical schools of the 18th century, Jonathan graduated as valedictorian from the College of Philadelphia and set up his practice and apothecary shop in Reading. His convictions eventually lead him to join the patriot cause, which sent him to Fort Ticonderoga. Jonathan organized the military army hospitals to prevent the spread of smallpox. Eventually, his leadership brought him back to Pennsylvania and the Valley Forge winter encampment in 1777-8 as the Director of Hospitals in the Middle Department.
Interactive components will help connect everyone to Jonathan's life and turning points for his journey. Find Jonathan in a London coffeehouse as his educational path is disrupted. Visit his busy doctor's office and see original 18th century medical objects on display. Join in the arguments in the Pennsylvania Assembly on the outbreak of war and discover the conditions faced while treating soldiers in military hospitals. Uncover how Jonathan's military experience impacted the rest of his short life and reflect on his legacy with immersive displays. Documents and artifacts from Jonathan's life—on loan from Fort Ticonderoga, the Historical Society of Pennsylvania, the College of Physicians, a private collection, and more—will be on display throughout the museum. See letters, a hand-drawn map of Fort Ticonderoga, Jonathan's dissertation, and the original daybook from his practice to connect with the struggles and triumphs that shaped his life.
This event is a suggested $2 donation per person, is rain or shine, and welcomes all ages. The Museum Shop will be open, full of unique and historical gifts. Regular guided tours of this exhibit are during normal museum hours. Pottsgrove Manor is open Tuesday through Saturday from 10 a.m. to 4 p.m. and Sunday from 1 p.m. to 4 p.m. Guided tours last about 45 minutes to 1 hour, and the last tour of each day departs at 3 p.m.
Pottsgrove Manor is located at 100 West King Street near the intersection of King Street and Route 100, just off Route 422 near the Carousel at Pottsgrove and Manatawny Green Miniature Golf Course, in Pottstown, Pennsylvania. Pottsgrove Manor is operated by the Montgomery County Division of Parks, Trails, and Historic Sites.
For more information, please call 610-326-4014, or visit www.montcopa.org/pottsgrovemanor. Like Pottsgrove Manor on Facebook at http://www.facebook.com/pottsgrovemanor.