History At Play LIVESTREAMS with "HAP 'n CHAT" online!
Improve listing Presented by History At Play

History At PlayTM, LLC Livestreams Immersive Living History to Your Home!
The Boston-based, internationally renowned, historical performance troupe presents:
HAP 'n CHAT
LIVE performance and audience engaged Q&A!
Every Wednesday at 6:30 PM EST on Facebook Live – Free Living History Experiences.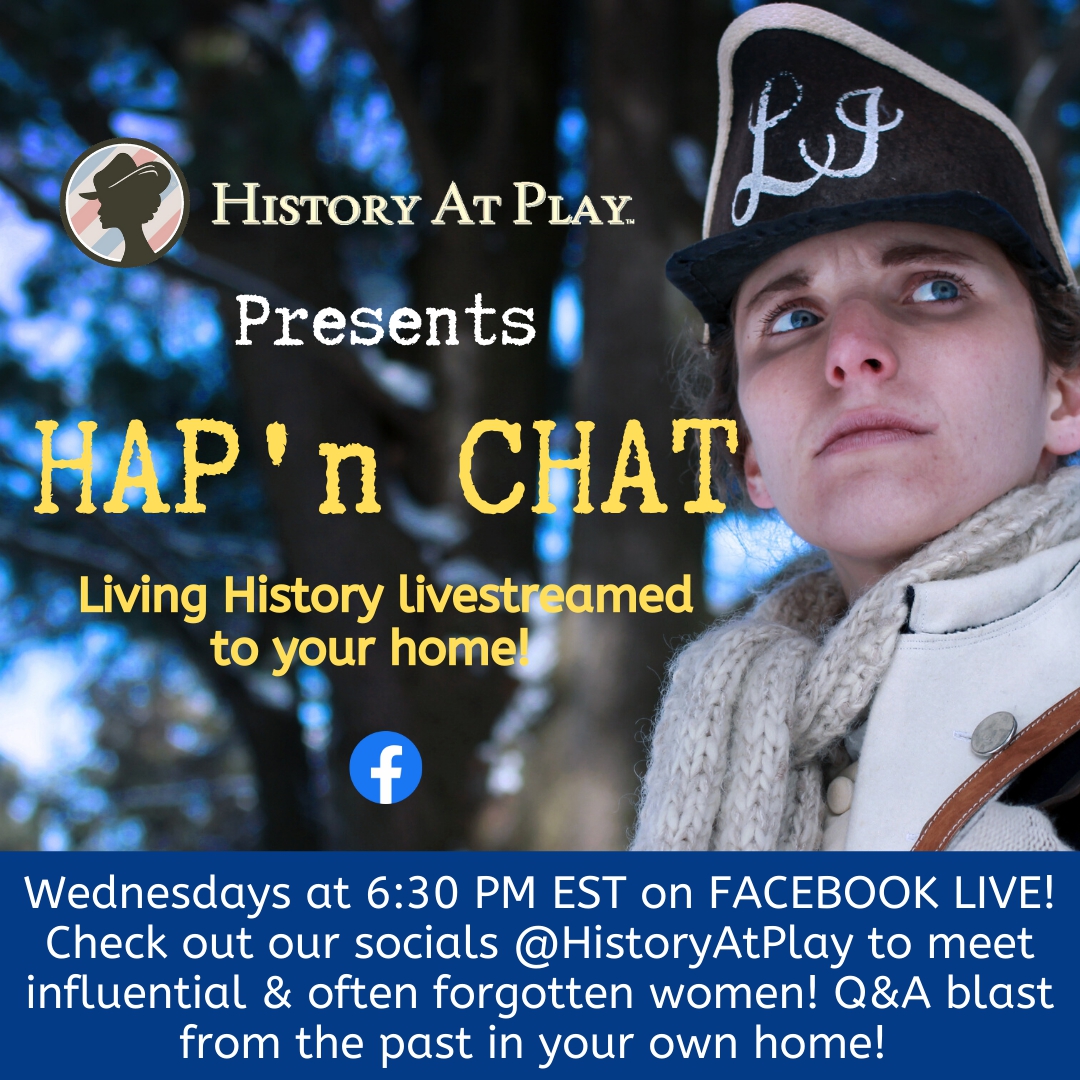 History At PlayTM, LLC (HAP, LLC) has garnered international attention for their one-woman immersive living history performances, chronicling the lives of influential and often forgotten women. From A REVOLUTION OF HER OWN!™ , the inspiring story of America's first female soldier, Deborah Sampson; to CHALLENGER: Soaring with Christa McAuliffe, exhibiting the achievements of the beloved Teacher In Space, History At PlayTM, LLC has brought the stories of our greatest heroines to life in museums, libraries, universities, senior living establishments, historical societies, and schools across the United States.
Dedicated to offering educational opportunities for all those affected by the unprecedented COVID-19 crisis, HAP, LLC is offering live, weekly HAP 'n CHAT socials. Visit @HistoryAtPlay on Facebook Live, Wednesdays, at 6:30 PM EST, commencing 18 March 2020, to meet the influential women of History At Play™, LLC: Deborah Sampson, Suffragist Lucy Stone, WWII heroines, including SOE leader Vera Atkins, SOE operative Virginia Hall, and Hollywood's Technological Phenom Hedy Lamarr, are just a few of the women to meet. These 30-minute Facebook Live meet-ups are conducted in period attire, based on primary-source research, and offer a once-in-a lifetime opportunity to have your questions answered live by historic women who overcame insurmountable challenges. The HAP n' CHAT socials are conducted by Judith Kalaora, a classically-trained, London educated, professional historical interpreter. A once-in-a-lifetime opportunity to experience history in your home!