Harvest Days
Improve listing Presented by Old Sturbridge Village

Saturday, October 20 and Sunday, October 21, 2012
Come help us celebrate the harvest and the beautiful New England autumn.
Help with the harvest, talk with costumed interpreters about the harvest, and learn about methods of food preservation.

The Cider Mill will be operating this weekend (and every weekend in October), with apples ground by ox-power on Saturday and the pulp pressed for its juice on Sunday. You can even get in on the act with a hand-powered "cider mill".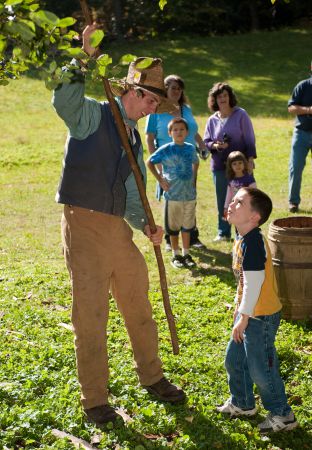 Join our costumed interpreters as they:
Harvest corn, root vegetables, and mangel wurtzel
Pick and taste heirloom apples from our orchards
Put the Herb Garden "to bed" for the season
Conduct garden and root cellar tours and discuss food prepartion
Thresh and winnow grain
Shell corn and beans
Churn butter