George Washington's Birthday Celebration
Improve listing Presented by Old Sturbridge Village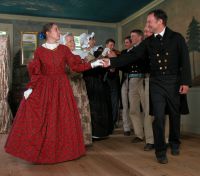 The birthday of the young nation's first great hero inspired great celebration among early 19th-century Americans. They gathered to offer toasts to George Washington and other important figures of the day. And they held balls, complete with Washington Cake and dancing.
Old Sturbridge Village will celebrate the Washington's Birthday weekend Saturday-Monday, Feb. 16-18, in the exact same spirit. Visitors can take part in traditional toasts to George Washington and other famous American patriots, and learn more about the country's first president during presentations of "I Cannot Tell a Lie: Celebrating the Life and Accomplishments of George Washington in Story and Song."
New! On Saturday, Feb. 16, there will be a Presidential Food Contest, with entries judged on taste, originality, and historical connection. (Register by Feb. 11)
New! On Sunday, Feb. 17, take part in Presidential Trivia Games. See how much you know about the leaders of our nation.
Also on Sunday, hear John and Abigail Adams read the love letters from one of the greatest love stories in our nation's history.
You'll be having a ball, too -- literally. Skirts will swirl on Monday, Feb. 18, as the Old Sturbridge Village dancers present a Washington Birthday Ball. Beforehand, OSV historians will discuss etiquette for the ball in "Please Take Hands"; and 1830s ball accessories in "Frills and Furbelows." Visitors can learn various dances of the time, including contra dances and cotillions, which were forerunners of today's line dancing and square dancing.
And if your name is George or Martha, you receive free admission to the Village during President's Day weekend (Feb. 16-18)!