Candle Making Workshop
Improve listing Presented by Pottsgrove Manor

Learn about the different types of colonial-era candles and hand-dip your own at Pottsgrove Manor's Candlemaking Workshop, Saturday, October 12. The first workshop will run from 10 a.m. to noon, and the second workshop will run from 1 p.m. to 3 p.m.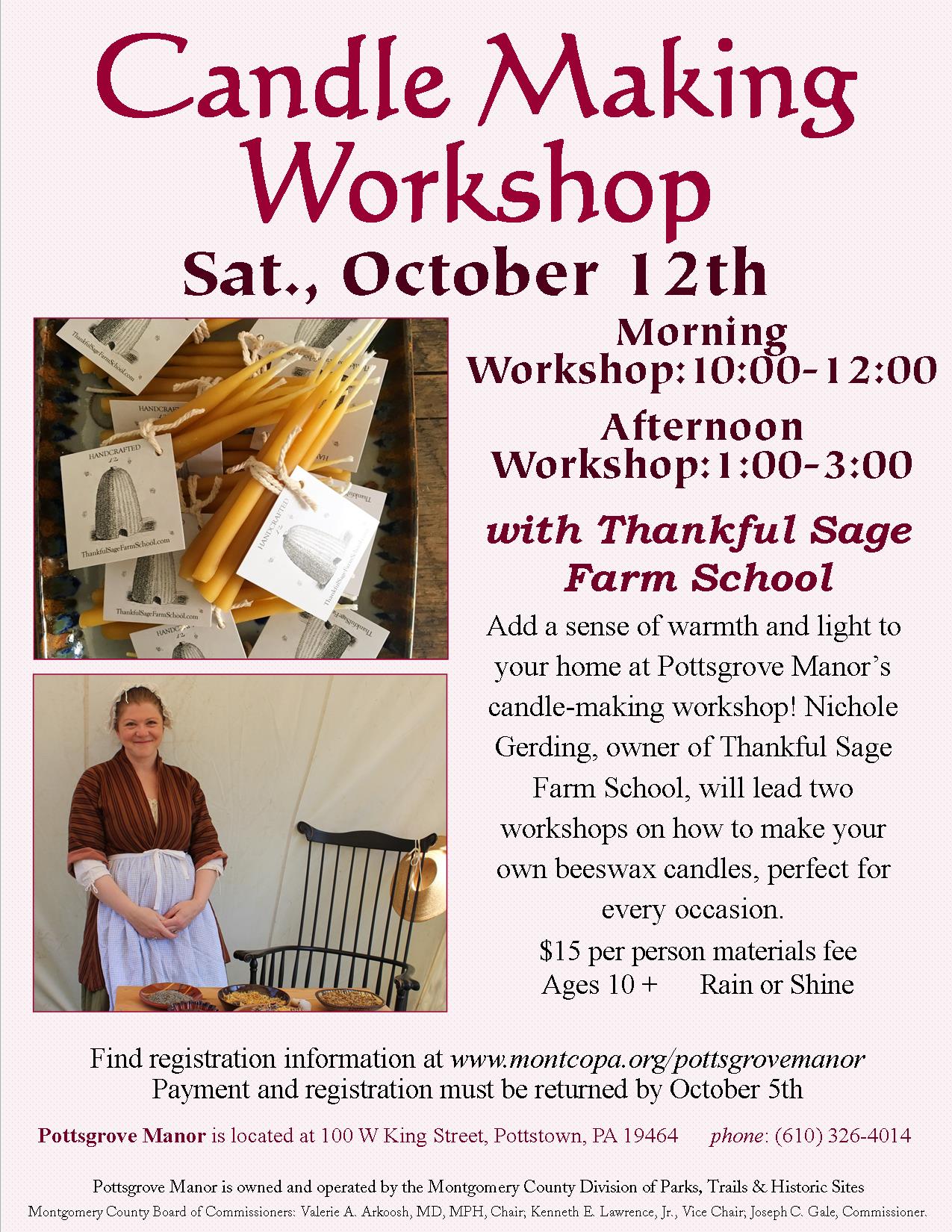 Fall days mean long winter nights are on their way. Bring light into your home with handmade candles! Nichole Gerding of Thankful Sage Farm School will teach participants the basics of candle making. Learn about the differences between tallow, beeswax, and bayberry candles. A morning workshop and afternoon workshop will be offered, so you can find the perfect time to visit Pottsgrove Manor for this hands-on program.
This is an introductory workshop, and registration is required. The materials fee is $15 per person, and space is limited. Ages 10 and older are welcome. Participants are asked to specify if they want the morning or afternoon workshop. Register on the Pottsgrove Manor website at www.montcopa.org/pottsgrovemanor. Payment and registration are due by October 5.
The Potts family 1752 manor house will be open for tours during normal museum hours. The Museum Shop will be open to purchase books, games, period reproduction items, and much more.
Pottsgrove Manor is located at 100 West King Street near the intersection of King Street and Route 100, just off of Route 422 near the Carousel at Pottsgrove and Manatawny Green Miniature Golf Course, in Pottstown, Pennsylvania. Pottsgrove Manor is operated by the Montgomery County Division of Parks, Trails, and Historic Sites.
For more information, please call 610-326-4014, or visit https://www.montcopa.org/930/Pottsgrove-Manor. Like Pottsgrove Manor on Facebook at https://www.facebook.com/pottsgrovemanor.