Bell & Bones Tour at King's Chapel, Boston
Improve listing Presented by King's Chapel History Program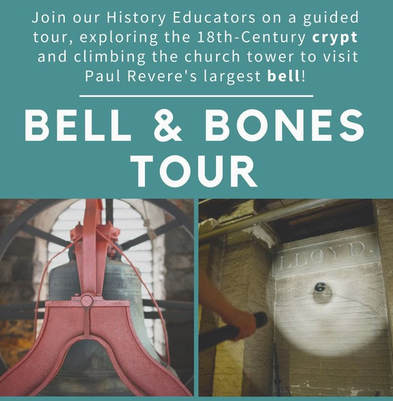 Discover the history behind life and death in colonial Boston on a Bell & Bones Tour of King's Chapel!

Guests learn about historic burial practices in our 18th century crypt before climbing the bell tower to visit our
1816 Revere bell, the largest and "sweetest sounding" Paul
Revere's foundry ever made!

Tour Schedule:
During the winter, Bell & Bones Tours are offered Mondays, Fridays, and Saturdays​ at 11 AM, 12 PM, 2 PM, and 3 PM. ​Tours begin at 2 PM on Sundays.

Please note:
​This tour is recommended for visitors aged 10 and up. Participants must be able to climb steep stairs and navigate obstructions both overhead and underfoot, and is not recommended for visitors with fear of heights or claustrophobia. Visitors under 18 must be accompanied by a parent or guardian. Visitors must sign a waiver before taking part in the tour.