An 1830s Independence Day Celebration & Fireworks
Improve listing Presented by Old Sturbridge Village

Come celebrate the best July 4th in history with old-fashioned, patriotic family fun.
Join in the fun as the martial band leads the citizen's procession as they march through the streets. Cheer and huzzah during a rousing patriotic reading of the Declaration of Independence and sign a giant reproduction of the document.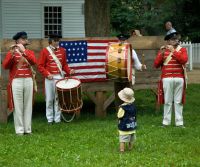 Make your own tri-cornered hat to wear as you learn to drill with the Sturbridge Militia. Learn dances done by 19th-century Americans and play a game of "base ball."
Food and beverages, including beer and wine, will be available for purchase so you can enjoy a picnic on the common.
Return in the evening for a spectacular fireworks display!
Join us for an evening full of activities followed by 21st-century fireworks. Gates open at 6:00 with music, magic and more, followed by the fireworks at dusk.
Highlights include:
Reading of the Declaration of Independence
19th-century magic with Robert Olson
Comedic juggling with Lucky Bob
Games and contests, including pie-eating, sack races, and quoits (similar to horseshoes, popular in early New England)
Food, beverage and souvenir tents - including beer and wine